Native American Composer Apprentice Project – NACAP
Lewis Prize for Music 2020 Infusion Award
National Arts and Humanities Youth Program Award from
The President's Committee on the Arts and the Humanities
NewMusic USA's New Music Educators Award
Arizona Governor's Arts Award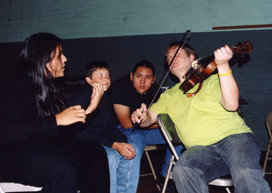 "Education is not so much filling a bucket as lighting a fire."— William Butler Yeats
The Native American Composer Apprentice Project lights fire.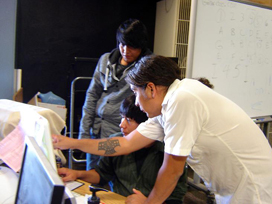 "The program needs to continue if Native American composers are to be heard. This program creates the perfect environment for the musical growth of these talented students."
— Blair Quamahongnewa, Tuba City Boarding School music teacher
"When we first walked into the room we were a band of highly trained, slightly intimidating classical musicians; after the reading we became a creative tool that had to be shaped into what they (the students) heard in their heads." — Andrew Bulbrook, Calder Quartet
NACAP 2004 Quartet-in-Residence
Since 1984, the Grand Canyon Music Festival has been dedicated to bringing the world's finest musicians to Grand Canyon National Park in celebration of the power and beauty of this magnificent World Heritage site. Since 1985, the Festival has extended this gift of music to the students of northern Arizona's under-served and rural communities, primarily at schools on the Navajo and Hopi Reservations. In 2001, the Festival initiated its Native American Composers Apprentice Project (NACAP) to extend its outreach to training talented Native American students in the art of composition. NACAP develops musical literacy and enhances critical thinking and decision making skills through the study of music composition. It introduces students to European "classical" music techniques, develops their understanding of their own musical heritages and how to use that knowledge to develop their own compositional voices.
Listen to Music That Matters, Performance Today's in-depth look at NACAP.
NACAP Composers-in-Residence
Raven Chacon (Navajo)
2004-present
Michael Begay (Navajo)
2009-Present
Trevor Reed (Hopi)
2010-Present
Adam Overton
2006
Jerod Impichchaachaaha' Tate (Chickasaw)
2004-2005
David Mallamud
2003
Brent Michael Davids (Mohican Nation)
2001-2002
NACAP Quartets-in-Residence
Miró Quartet, 2001 NACAP Quartet-in-Residence
Corigliano Quartet, 2002 NACAP Quartet-in-Residence
Avalon Quartet, 2003 NACAP Quartet-in-Residence
Calder Quartet, 2004 NACAP Quartet-in-Residence
ETHEL, 2005-Present NACAP Quartet-in-Residence
Catalyst Quartet, 2011-Present NACAP Quartet-in-Residence
Sweet Plantain, 2015-Present NACAP Quartet-in-Residence
NACAP Partner Schools
Navajo Nation Schools: Chinle High School, Whitehorse High School (Utah), Monument Valley High School in Kayenta, Grey Hills Academy, Tuba City High School, Tuba City Boarding School, Shiprock Associated Schools (New Mexico), Shonto Community School, Chilchinbeto Community School.
Hopi Nation Schools: Hopi High School, Second Mesa Day School, First Mesa Community School. Grand Canyon School, Flagstaff Arts and Leadership Academy.
In 2002, NACAP expanded its reach to Maricopa County through partnerships with the Heard Museum, to Scottsdale Community College and Salt River High School NACAP returns to Salt River in 2013.
Outreach History
Grand Canyon Music Festival outreach programs have been reaching Arizona's rural and Navajo and Hopi Nation schools since 1984. In 1998, Latvian composer Peteris Vasks served as "virtual" composer-in-residence to Navajo schools. In 1999, Native American flutist R. Carlos Nakai, Grand Canyon Music Festival musicians, and composer Katherine Hoover toured 7 schools with a Grand Canyon Music Festival -comissioned work. In 2000, composer Brent Michael Davids (Mohican Nation) created a chamber piece surrounding Havasupai dancers which toured 8 Navajo and Hopi Nation schools. Grand Canton Music Festival also created a core-related 5th grade curriculum meeting state education standards was produced. From 2001-present, the Native American Composer Apprentice Project (NACAP) has resulted in the creation, presentation, and recording of over 300 new works for string quartet by Navajo and Hopi Nation high school and middle school students. Composers and ensembles (MIro '01, Corigliano '02, Avalon '03, Calder '04, ETHEL'05-present, Catalyst 2011-2012) reach students in 3 states. In 2002, Heard Museum and Scottsdale Community College partnerships expanded NACAP to Salt River Reservation, and "Words and Music" combined classical music & Native American storytelling with Native American artist Michael La Capa. In 2004, Grand Canyon Music Festival provided instrumental instruction to reservation schools and Irish-American writer Frank McCourt worked with Navajo and Hopi high school students. Grand Canyon School of Rock, serving Grand Canyon students, began in 2008.