Grand Canyon Music Festival
Celebrating 40 Years of the
Grand Canyon Music Festival!
Our 2023 40th Anniversary Season is shaping up!
All concerts at The Shrine of the Ages, unless otherwise noted.
20 South Entrance Road, South Rim, Grand Canyon.
~ JW Powell

"Thus the Grand Canyon is a land of song."

"Some of the happiest moments of my life have involved the Grand Canyon Music Festival."

"I look forward to this festival every year."

"Beautiful music for the soul."

Grand Canyon School of Rock

"Our local students get to shine."

"NACAP is the reason I am a musician."

Our performance home, The Shrine of the Ages

"Great venue, awesome music."
Congratulations to Raven Chacon, winner of this year's
Pulitzer Prize in Music.

 

His piece "Voiceless Mass" is "a mesmerizing, original work for organ and ensemble that evokes the weight of history in a church setting, a concentrated and powerful musical expression with a haunting visceral impact."

Emeritus Professor of Astronomy at Northern Arizona University

Sign up for our hotel packages the weekend of September 16 and 17, attend concerts, and enjoy after concert Dark Sky talks with David Koerner, and discover how factors which led to life on Earth hint at the possibilities for extraterrestrial life in the universe.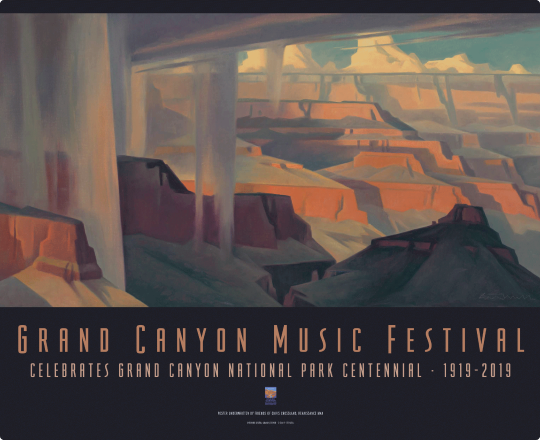 Welcome to our 40th season!
After an eventful year in which we continue to navigate a pandemic, congratulate Pulitzer Prize-winner Raven Chacon, foster a partnership with the Wheelwright Museum in Santa Fe to celebrate our NACAP students, we are thrilled to start our 40th season with a bevy of cellists, to welcome back the exciting Catalyst Quartet, and to end the season with a celebration of the Bonfiglio Group, including a new offering through our local hotel partners.
Buy our Centennial posters or shop for vintage Ed Mell festival posters, giclées, and note cards.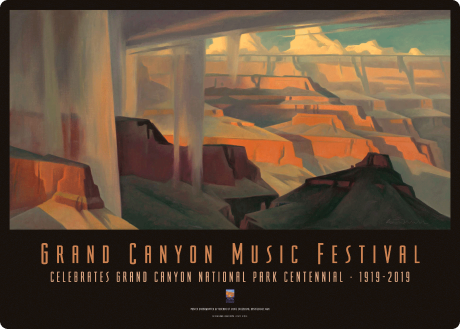 A weekend exploring the Grand Canyon.
Plan your exciting trip topped off with awe-inspiring music.
Support the Grand Canyon Music Festival.
Your purchase helps support the work of the Grand Canyon Music Festival – Thank you!