Grand Canyon Music Festival
Celebrating 40 years of the Grand Canyon Music Festival.

Governor Katie Hobbs Declares September

Grand Canyon Music Festival Month!
All concerts at The Shrine of the Ages, unless otherwise noted.
20 South Entrance Road, South Rim, Grand Canyon.
~ JW Powell

"Thus the Grand Canyon is a land of song."

"Some of the happiest moments of my life have involved the Grand Canyon Music Festival."

"I look forward to this festival every year."

"Beautiful music for the soul."

Grand Canyon School of Rock

"Our local students get to shine."

"NACAP is the reason I am a musician."

Our performance home, The Shrine of the Ages

"Great venue, awesome music."
Congratulations to Raven Chacon, winner of this year's
Pulitzer Prize in Music.

 

His piece "Voiceless Mass" is "a mesmerizing, original work for organ and ensemble that evokes the weight of history in a church setting, a concentrated and powerful musical expression with a haunting visceral impact."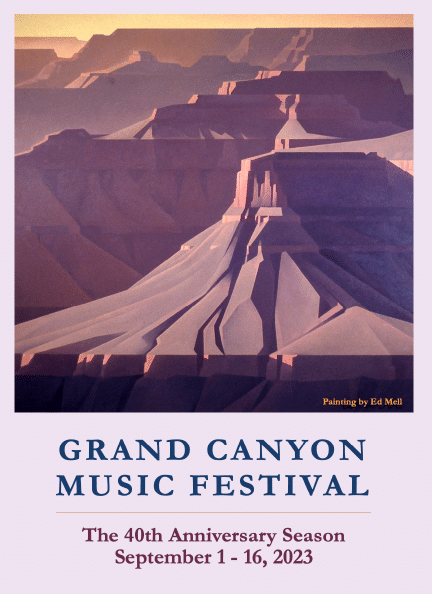 Welcome to our 40th season!
40 years of great music, incredible artists, at the most extraordinary location imaginable! It is an honor to present our 40th season with some of our favorite artists, like guitarist Michael Newman – who was there at the beginning – and cellist David Speltz who was there, if not quite at the beginning, in the early years. And we will perform Arnold Black's Serenade for the Grand Canyon Music Festival, written for us in 1986.
Even our 4oth Season poster harkens back to our beginning, with the same Ed Mell painting we used in 1985 for our first poster.
Our Ed Mell posters, giclées, and note cards, including our 40th season and centennial posters, are available for sale on our web site.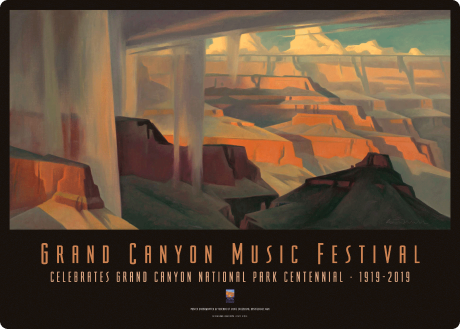 A weekend exploring the Grand Canyon.
Plan your exciting trip topped off with awe-inspiring music.
Support the Grand Canyon Music Festival.
Support The Native American Composer Apprentice Project (NACAP).
Your purchase helps support the work of the Grand Canyon Music Festival – Thank you!