Grand Canyon School of Rock
Friday, August 30, at 4 p.m. Shrine of the Ages
Rock along with Grand Canyon high school students in this culminating recital as they display what they learned during the week-long School of Rock with Bonfiglio Group members Stephen Benson and Joe Deninzon
Begun in 2007, Grand Canyon School of Rock is a fast-paced, week-long education program developed with Grand Canyon Music Festival musicians Joe Deninzon, Steve Benson and Robert Bonfiglio that provides local high school students the opportunity to experience all aspects of band life.
From intensive rehearsals and lessons focusing on rock and pop music theory, techniques and styles, to the culminating public performances, School of Rock students share in all aspects of band life, from musicianship to hauling gear, set-up, promotion, working sound and light boards, and support of their band mates.
SoR students compose their own music, and arrange and interpret standards from popular music genres. They are exposed to new music, are introduced to music production, and develop their own performance skills as they learn the discipline of ensemble performance and participation
The Grand Canyon Music Festival administers Grand Canyon School of Ro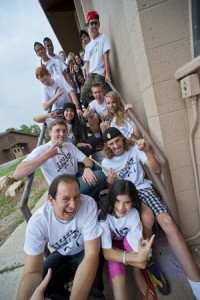 ck with support from Grand Canyon Unified School (Dr. Shonny Bria, Superintendent, Dr. Javier Abrego, Principal, and Robert Curry-El, music teacher) through a grant from the Arizona Commission on the Arts with funding from the State of Arizona and the National Endowment for the Arts; Grand Canyon Rotary Club, and Tusayan Sanitary District.
Photo © Jeremy Heflin
School of Rock is an outreach program of the Grand Canyon Music Festival. The August 30 student performance is free and open to the public. But if you would like to donate to the Grand Canyon Music Festival to support School of Rock and all of our activities, click here.