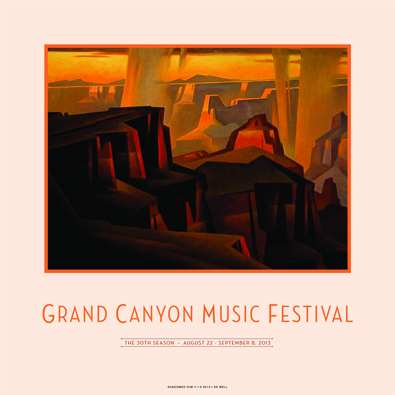 Thank you.
We take a bow and extend the warmest Thank you! to everyone who made our 30th Anniversary Season a success.
Our audience, musicians, volunteers, students, board members, friends, teachers, supporters, staff, businesses, and everyone in the Grand Canyon community.
As a token of our thanks, click here to listen to the live recording of Richard Einhorn's Audubon Fragments from the August 23rd performance with Clare Hoffman, flute, Cenovia Cummins, violin, and Stephanie Cummins, cello.
If you were at the concert, we hope it brings back wonderful memories!
If you weren't, we hope you enjoy it – And will join us next year for more glorious music.
Thus the Grand Canyon is a land of song. – JW Powell
Robert Bonfiglio, Founding Director                 Clare Hoffman, Artistic Director
Our 30th Season is dedicated to the memory of John McDonald