Welcome to our 33rd Season
We are in the process of updating our web site with all of the exciting events we have planned for our 33rd season. Stay tuned!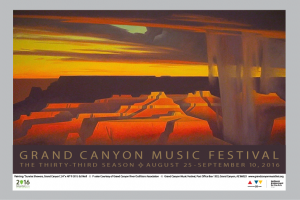 Thank You –
Robert Bonfiglio, Founding Director
Clare Hoffman, Artistic Director
Thus the Grand Canyon is a land of song.
– JW Powell
Our 2016 poster celebrates the National Park Service Centennial
"Sunrise Showers, Grand Canyon" © 2015 Ed Mell