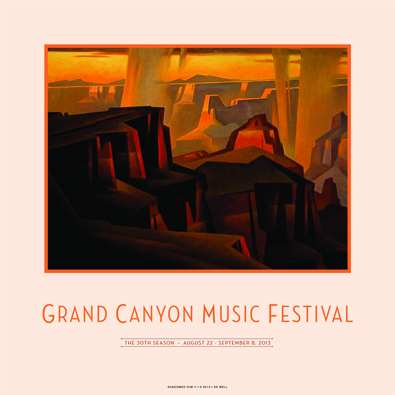 Welcome!
As images of Pluto and its moon Charon are beamed back from the outer reaches of our solar system, we marvel at the landscape, looking for features that remind us of home. There are mountains on Pluto! Canyons on Charon!
What brought us, and so many others, to the Grand Canyon was the same impulse that drives the NASA scientists: a desire to explore – to see, feel and hear what's out there.
After seeing the online images of the canyon on Charon, I found myself searching for pictures of the Grand Canyon from space. The new informs the old, offers the chance to make fresh discoveries, and renews our appreciation. My 100th time down the Kaibab Trail, I'm still turning excitedly to my those around me to say, "Look at this!"
Musicians are also explorers. When we find a new piece, our first impulse is to share: "Listen to this!" And we are constantly drawn back to the familiar, to find new meaning and make new connections.
During our 32nd season, the GCMF will be doing both: Exploring the new, with the Sweet Plantain quartet celebrating extraordinary new music from the Americas; And re-examining the familiar, with The Catalyst Quartet's Zone B program on August 29. This concert will revisit three of the great masters of classical music – Beethoven, Bartók, and Brahms – from three key periods: classical, romantic, twentieth century – through three major works. The juxtaposition will offer a reflection on where these great composers were artistically by the time they finished their respective third quartets.
Like so many others, we were drawn to the Grand Canyon by a kind of wanderlust, and even after "settling in," that urge to wander and explore is still there. Thank you for joining us on our 32nd year of exploration!
Thus the Grand Canyon is a land of song. – JW Powell
Robert Bonfiglio, Founding Director
Clare Hoffman, Artistic Director