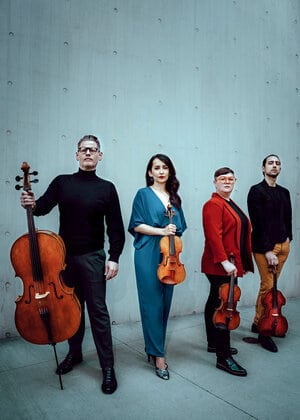 The Catalyst String Quartet
September 09, 2022
CQ 10: Anniversary Celebration
A musical celebration of the Catalyst Quartet's tenth anniversary. This program features music
by the father of the string quartet, Franz Joseph Haydn, selections from the quartet's first season
by Terry Riley and Anton Webern, as well as a collection of ten new commissions by some of
our favorite composers titled "CQ Minute".
Joseph Haydn
String Quartet Op. 76 No. 4 "Sunrise"
Anton Webern
Langsamer Satz
John Cage
4'33"
CQ MINUTE
"Con Brio" by Kishi Bashi (b. 1975)
"The Face of Past Regret" by Billy Childs (b.1957)
"Build" by Jessie Montgomery (b.1981)
"But, Just a Minute?!" by Paquito D'Rivera (b. 1948)
"Presidio" by Andy Akiho (b. 1979)
"Emerge" by Kevin Puts (b. 1972)
"A short flight" by Joan Tower (b.1938)
"Lo infinito" by Angelica Negrón (b.1981)
"Bittersweet synonym" by Caroline Shaw (b. 1982)
CQ Minute Competition Winners
"Time Capsule" by Nick Revel (b.1986)
"A future in process" by Paul Mekailian (b. 1998)
Saturday, September 10
UNCOVERED PLUS
William Grant Still
Lyric Quartette
George Walker
String Quartet No. 1
Germaine Tailleferre
Quartet
Fanny Mendelssohn
String Quartet
A weekend exploring the Grand Canyon.
Plan your exciting trip topped off with awe-inspiring music.
Support the Grand Canyon Music Festival.