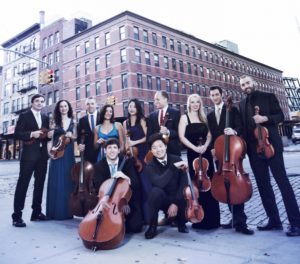 A collective of some of the most exciting young chamber musicians performing today, The Manhattan Chamber Players follow in the storied traditions of great music making established at Marlboro Music Festival, Steans Institute at Ravinia, Music@Menlo,Yellow Barn and Kneisel Hall Chamber Music Festivals.
Joining us at the Grand Canyon this year are violinist Brendan Speltz, violist Luke Fleming, and cellist Andrea Casarrubios, with Clare Hoffman, flute, and Robert Bonfiglio, harmonica, and special guests, long time GCMF artists (and Brendan's parents!), cellist David Speltz, cello, and Connie Kupka, violin and viola.
Friday, September 6th
Beethoven Serenade in D Major for Flute, Violin, and Viola, Opus 25
Mozart String Quartet, TBA
Haydn Flute Quartet in G Major, Hob. II, G-4
Boccherini Quintet No. 4 in G Major for Two Violins, Viola, and Two Cellos, "Fandango"
Saturday, September 7th
Stamitz Quartet in F Major, Opus 8, No. 3 for Harmonica, Violin, Viola, and Cello
Devienne Duo in F Major for Flute and Viola, Opus 5, No. 2
Schubert Quintet in C Major for Two Violins, Viola, and Two Cellos, D. 956
Or donate your own amount and tell us the dates you are coming in the notes field. More than $120 per year will get you a seat at every concert and more benefits! See https://grandcanyonmusicfest.org/support/ for more information.