Native American Composer Apprentice Project
Sunday, September 3 at 5 p.m.
Shrine of the Ages
Free Concert
Students from the the Navajo, Hopi, and Salt River Pima-Maricopa Nations have been studying composition with composers-in-residence Raven Chacon and Michael Begay. Come hear the students' original works, performed by
the Catalyst Quartet.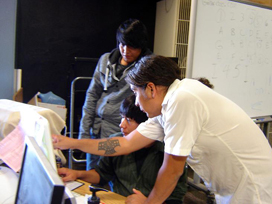 NACAP composer-in-residence Raven Chacon
working with students at Chinle High School

NewMusic USA's New Music Educators Award
President's Committee on the Arts and the Humanities National Arts and Humanities Youth Program Award
Arizona Governor's Arts Award for Arts in Education
" Education is not so much filling a bucket as lighting a fire." — William Butler Yeats
NACAP develops musical literacy and enhances critical thinking and decision making skills through the study of music composition. It introduces students to European "classical" music techniques, develops their understanding of their own musical heritages and how to use that knowledge to develop their own compositional voices. Native American students interested in advanced study in any field face unique challenges to their aspirations. "Major colleges… often view the talent on the reservations as a risky investment. … They fear American Indians will ditch their scholarships once they get homesick." The New York Times, June 17, 2001. NACAP nurtures the musical talents of Native American students, helps them prepare for music study at the college and conservatory level, and gives them a window through which to view and understand professional careers in music.
Click here to learn more about NACAP
The Festival administers the Native American Composers' Apprentice Project (NACAP) with support from the National Endowment for the Arts; the Arizona Commission of the Arts with funding from the State of Arizona and the National Endowment for the Arts; Target; Y.E.S. for Diné Bikeyah; Partner schools through funding from the Arizona Commission on the Arts; and the ASCAP Foundation Irving Caesar Fund, and The Bay and Paul Foundations. Expansion of NACAP to Salt River High School in funded in part by the Nina Mason Pulliam Charitable Trust and Scottsdale League for the Arts. Expansion of NACAP to Whitehorse High School in Utah is funded in part by the Utah Division of Arts & Museums and the National Endowment for the Arts.