Saturday, August 27, 7:30 p.m.
Shrine of the Ages
"Puhutawi"
The Catalyst Quartet
(Karla Donehew-Perez and Suliman Tekalli, violin, Paul Laraia, viola, Karlos Rodriquez, cello),
Clark Tenokhongva, Jeffrey Koyiymptewa, Clare Hoffman, Gary Stroutsos, The Strata Quartet.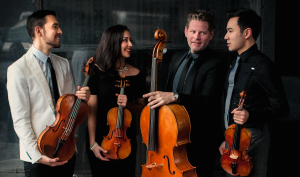 We celebrate the Centennial of the National Park Service with "Puhutawi," a new genre of Hopi music, taking the power and sophistication of Hopi traditional music and expanding its sonic possibilities via fusion with contemporary chamber music. Puhutawi composers Clark Tenakhongva, NAMMY-nominated creator of traditional Hopi ceremonial music, Hopi composer Trevor Reed collaborate in this new concert-length work which pays homage to the Grand Canyon – their ancestral homeland and now one of America's most visited National Parks.
Based on a series of provocative songs composed by Tenakhongva in Hopi ceremonial style, re-interpreted and developed collaboratively by the two composers for a concert audience, "Puhutawi" entices the audience to listen to the environmental and spiritual forces that bring life and motion to the Grand Canyon.
"Puhutawi" will be complemented by a performance of Barber's Adagio for Strings
Saturday, August 27