" Education is not so much filling a bucket as lighting a fire." — William Butler Yeats

"The program needs to continue if Native American composers are to be heard. This program creates the perfect environment for the musical growth of these talented students.
— Blair Quamahongnewa, Hopi High School
music teacher

"When we first walked into the room we were a band of highly trained, slightly intimidating classical musicians; after the reading we became a creative tool that had to be shaped into what they (the students) heard in their heads." — Andrew Bulbrook, Calder Quartet
NACAP 2004 Quartet-in-Residence


Since 1984, the Grand Canyon Music Festival has been dedicated to bringing the world's finest musicians to Grand Canyon National Park in celebration of the power and beauty of this magnificent World Heritage site. Since 1985, the Festival has extended this gift of music to the students of northern Arizona's under-served and rural communities, primarily at schools on the Navajo and Hopi Reservations. In 2001, the Festival initiated its Native American Composers Apprentice Project (NACAP) to extend its outreach to training talented Native American students in the art of composition.



"The Grand Canyon Music Festival is a great place to debut a person's song; the people at the festival make you feel good."
— Kevin Poneoma, NACAP 2002 student
Hopi High School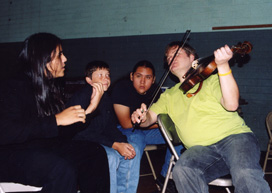 The Vision



"I want to see my people out there in the world not just on the reservation, all Natives. In music, you can change things, make people feel and think." — NACAP 2002 student


In 2001 no Native American composition students were enrolled in music conservatories. Only a handful of formally-educated Native American composers are working today.
NACAP addresses the root causes of this scarcity of Native American voices on the American music scene: the lack of quality — or, in too many cases, any — music programs in schools; lack of role models; lack of access to cultural institutions; and cultural biases.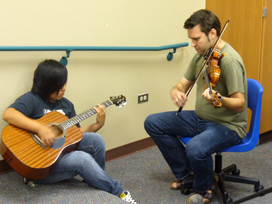 Above: Cornelius Dufallo with NACAP student Krystin Tallsalt



NACAP was conceived in 2000 during the initial residency of composer Brent Michael Davids at the Festival, where his striking work "Guardians of the Grand Canyon" was presented as part of the Continental Harmony Millennium Celebration. The piece inspired Havasupai elder Rex Talusi to note that it was through this kind of collaboration, young Native Americans working with their traditions in new ways, that their culture would live on. This sentiment inspired the Festival's Artistic Director, Clare Hoffman, and the composer, to develop the Native American Composers Apprentice Project, with the vision of creating a pool of young Native American composers.

NACAP develops musical literacy and enhances critical thinking and decision making skills through the study of music composition. It introduces students to European "classical" music techniques, develops their understanding of their own musical heritages and how to use that knowledge to develop their own compositional voices. Native American students interested in advanced study in any field face unique challenges to their aspirations. "Major colleges… often view the talent on the reservations as a risky investment. … They fear American Indians will ditch their scholarships once they get homesick." The New York Times, June 17, 2001. NACAP nurtures the musical talents of Native American students, helps them prepare for music study at the college and conservatory level, and gives them a window through which to view and understand professional careers in music.



The Festival administers the Native American Composers Apprentice Project (NACAP) with support from the National Endowment for the Arts; Target; Y.E.S. for Diné Bikéyah; The ASCAP Foundation Irving Caesar Fund; and our partner schools through grants from the Arizona Commission on the Arts with funding from the State of Arizona and the National Endowment for the Arts. Expansion of NACAP to Whitehorse High School in Utah is funded in part by the Utah Division of Arts & Museums and the National Endowment for the Arts. Expansion of NACAP to Shiprock Associated Schools is funded in part by the New Mexico Arts Commission and the National Endowment for the Arts.
Listen to
"Music That Matters"
Performance Today's in-depth look at NACAP.


The Grand Canyon Music Festival's
Native American Composers Apprentice Project
lights fires!

NACAP student music scores.


The Program



"(NACAP students') expressions of first wonder and then pride at hearing their music were palpable." — Dr. Patricia A. Shifferd, Director of Assessment, American Composers Forum


Composer-in-Residence Raven Chacon (Navajo) works with high school students selected for their interest and talent in music. During a rigourous three week priod each student receives intense one-on-one instruction from and interaction with the composer on the art and technique of composition, from inspiration to notation to performance. Subjects covered include comparative discussion of western music theory and composition and oral traditions of indigenous cultures, overview of western and native instruments, music notation, orchestration, and artistic expression. During the Grand Canyon Music Festival's September season, student composers workshop their pieces with resident NACAP string quartets and attend rehearsals and concerts.

Student compositions are premiered and recorded during the Grand Canyon Music Festival season, and are the focus of outreach to 10 Navajo and Hopi Reservation schools. Each of the young composers receives a portfolio of their NACAP work, including a professionally copied score and professionally recorded CD.



"Bonding between cultures comes when there is a common goal. Students, composers, string quartet, teachers, families, came together for a common goal, the creation and presentation of new works." — Jerod Impichchaachaaha' Tate, NACAP Composer-in-Residence, 2004-2005


In 2002, NACAP expanded its reach to Maricopa County through partnerships with the Heard Museum, to Scottsdale Community College in 2003, Salt River High School in 2004-05, and Chinle High School. In 2008, we welcome Whitehorse High School on the Navajo Resevation. NACAP partner schools have included Hopi High School, Monument Valley High School in Kayenta, Grey Hills Academy, Tuba City High School, Chinle High School, Tuba City Boarding School, Second Mesa Day School, Shonto Community School, First Mesa Community School, Grand Canyon School, Chilchinbeto Community School and the Flagstaff Arts and Leadership Academy.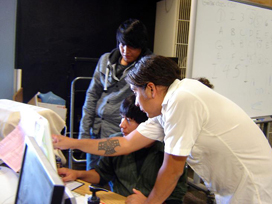 Above: Composer Raven Chacon works with NACAP students at Chinle High School

NACAP Artists


Composers-in-Residence


Brent Michael Davids (Mohican Nation)
2001-2002
David Mallamud
2003
Jerod Impichchaachaaha' Tate (Chickasaw)
2004-2005
Raven Chacon (Navajo)
2004-present
Adam Overton
2006
Michael Begay
2009-Present
Trevor Reed (Hopi)
2010-Present

Quartets-in-Residence
Miró Quartet, 2001 NACAP Quartet-in-Residence Corigliano Quartet, 2002 NACAP Quartet-in-Residence
Avalon Quartet, 2003 NACAP Quartet-in-Residence
Calder Quartet, 2004 NACAP Quartet-in-Residence
ETHEL, 2005-Present NACAP Quartet-in-Residence
Catalyst Quartet, 2011-Present NACAP Fellowship Quartet

Begun in 2007, Grand Canyon School of Rock is a fast-paced, week-long education program developed with Grand Canyon Music Festival musicians Joe Deninzon and Chris Milletari that provides local high school students the opportunity to experience all aspects of band life.

From intensive rehearsals and lessons focusing on rock and pop music theory, techniques and styles, to the culminating public performances, School of Rock students share in all aspects of band life, from musicianship to hauling gear, set-up, promotion, working sound and light boards, and support of their band mates.









SoR students compose their own music, and arrange and interpret standards from popular music genres. They are exposed to new music, are introduced to music production, and develop their own performance skills as they learn the discipline of ensemble performance and participation.

The Grand Canyon Music Festival administers Grand Canyon School of Rock with support from Grand Canyon Unified School (Sharyl Allen, Superintendent, Toby Melster, Principal, and Bentley Monk, music teacher) through a grant from the Arizona Commission on the Arts with funding from the State of Arizona and the National Endowment for the Arts; The D'Addario Foundation, Grand Canyon Rotary Club, and South Grand Canyon Sanitary District.

Photo © Mike Buchheit